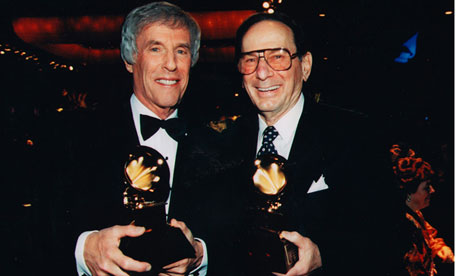 Burt Bacharach and Hal David wrote a lot of beautiful music. Mr. David passed away Saturday in LA. Having written nearly 700 songs, Mr. David is way beyond legend.
Here is a partial list:
24 Hours from Tulsa
A House is Not a Home
Alfie
America Is
American Beauty Rose
Anyone Who Had a Heart
Blue on Blue
Close to You
Do You Know the Way to San Jose
Don't Make Me Over
I Say a Little Prayer
It Was Almost Like a Song
Johnny Get Angry
Magic Moments
Make It Easy on Yourself
Message to Michael
My Heart is an Open Book
One Less Bell to Answer
Open Your Arms to the World
Promises, Promises
Raindrops Keep Falling on My Head
Reach Out for Me
The April Fools
The Look of Love
The Man Who Shot Liberty Valance
There's Always Something There
to Remind Me
This Guy's in Love With You
To All the Girls I've Loved Before
Trains and Boats and Planes
Walk on By
What the World Needs Now is Love
What's New Pussycat?
Wishin' and Hopin'
Wives and Lovers
You'll Never Get to Heaven
(If you Break My Heart)
Here's an article about Mr. David.
http://www.bbc.co.uk/news/19451047